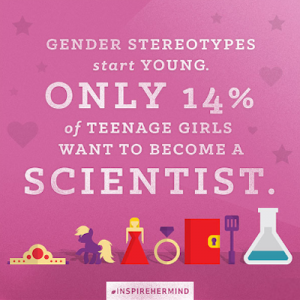 My daughters were super surprised by this. They all want to be scientists. My 12-yo daughter and I decided to dig a little deeper than the headline and see what the statistic really means.
Girls choosing camera lenses over microscopes:
Over a third of teenage girls put off careers in science due to negative stereotypes, finds research group
In 2008, 506 girls ages 13 to 18 (apparently USA) gave the following career choices. More than one choice was allowed.
Model: 32%
Actress: 29%
Teacher: 28%
Lawyer: 24%
Journalist: 24%
Musician: 20%
Doctor: 20%
Beautician/Hairdresser: 20%
Scientist: 14%
Housewife: 12%
Engineer: 4%
Survey results suggested that 35% of teenage girls are put off careers in science and engineering simply because they don't know enough about them. One in four say these industries are not represented in the magazines and websites they read.
I heard about the survey via a blog post about a
Gold Award girl scout in my area who designed a STEM kit for 4th and 5th graders
in her school district.